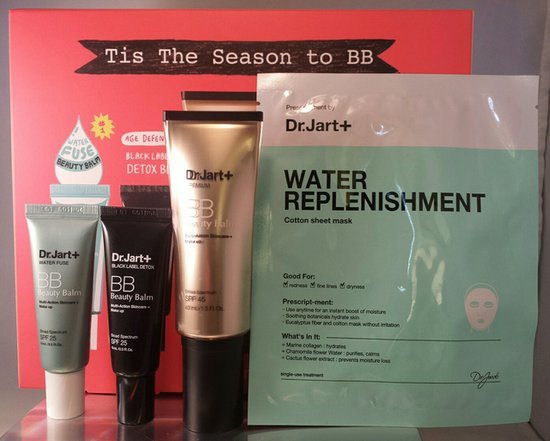 Tis The Season To BB Kit for more info go to
Dr. Jart
A four-piece collection of Dr. Jart's bestselling BB creams and a hypoallergenic hydrating mask.
This sampler set allows you to try three of Dr.Jart's bestselling BB creams. Each multitasking balm delivers the benefits of a primer, moisturizer, sunscreen, and treatment serum in one simple application. The sheer universal shade looks flattering on most skintones. The bonus hypoallergenic prescription hydrating mask charges skin with full hydration in as little as 15 minutes for antiaging and detoxifying benefits.
This set contains:
– 1.5 oz Premium Beauty Balm SPF 45
– 0.5 oz Black Label Detox Beauty Balm SPF 25
– 0.5 oz Water Fuse Beauty Balm SPF 25
– 0.8 oz Prescriptment Mask Water Replenishment

Miss Style Apothecary says I love BB cream and Dr. Jart really set the standard for all of the other lines that have BB Creams.. These are AMAZING.. I have used all 3 and as you can see they all have a teeny difference in their color. They go on very smoothly and are SUPER hydrating. I find the coverage to be supurb. I can apply lightly and just have an almost tinted moisturizer feel or apply a little more and get a perfect look. The look lasts throughout the day and with this kit you really get to figure out exactly which one your skin loves. I have been mixing it up daily. The premium is the best match for my skin tone BUT they all work, I am fair so I when I use the black it requires a little more blending.. No problem because the finish is what I love.. My skin is moisturized and looks fresh all day.. Now, that is tough to do in the winter, it is so dry.. This is my New Years Eve choice. The mask is amazing too so good that I am getting more there is nothing more relaxing than popping on after a long day and just letting your skin replenish and recharge, this is PERFECT to use before an event, it really gives my skin that GLOW like after having a facial.. You must try them..
I really think this is perect for a gift but if you are in the market to try out a beauty balm or have had a recent procedure and are on the mend then this is a great option to be able to test the waters, I really consider this an introductory kit to the amazing world of Dr Jart!!