FAR Botanicals  Verde Oil Supreme 8 Scent Sample Pack $42.00
Sample Pack of 8
This convenient sample set includes eight, 2 dram (7.4 ml) dropper bottles to allow the buyer to experience the full range of available artisan scents for Verde Oil Supreme in one convenient package.
Included Scents:
Low Scent, Cocoa & Rum, Vanilla Narcotique, Lavender Absolute, Rose Rapture, Temple Hymn, Blood Orange & Patchouli Musk, and Lilikoi (Passion Flower).
How To Use:
For Gloss and Moisture Retention – Place 3-6 drops of Verde Oil Supreme into your hand. For long hair increase amount appropriately. Rub hands together and distribute evenly through hair. Verde Oil can be applied to damp or dry hair, for moisture retention, its best when applied to damp hair.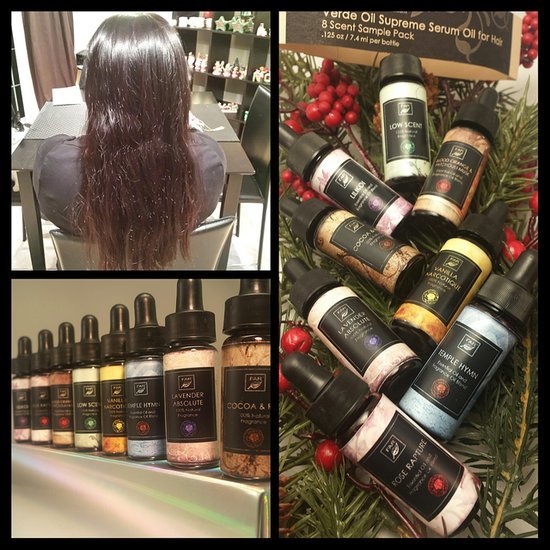 Miss Style Apothecary says.. I love hair oil.. My hair without is unruly and dry looking. When we got
the opportunity to try out FAR Botanicals sample pack, it was a NO BRAINER, we wanted in.. The scents are delicious and lightly perfume my locks, just enough that if I take a piece of my hair and smell it I can detect the scent but it isn't so perfumed that it is buzzing around me giving me a headache.. So as instructed about, I apply into my paws and knead into my hair… My hair is long but it is fine so I need to watch how much I use or else I can end up with oily hair.. I use an full eye dropper into my palm and rub together.. I apply from the ends and work my way up to the roots, I just knead and squeeze in.. I wanted to show how my hair looks naturally, this is with oil added, air dried and just brushed.. You can see that I have some of my imperfections but I want to point out is HOW shiny my hair looks.. It is full and not weighed down or without any volume.. I did straighten my hair after with my flat iron so the style came together but without using Verde Oil I wouldn't have the shine.. My hair feels amazing, it is silky soft and smooth.. It feels light and bouncy too.. ALSO without Verde Oil, I would have 10,000 more fly aways, I get so much control too.. I love it..
The Verde Oil's that I have are Cocoa & Rum and Lilkoi – The Cocoa & Rum smells great it smells warm and musky.. I can detect a chocolatey almost fruit cake spiced scent.. It is a decadent deep rich scent.. I also have Lilkio (Passion Flower) – to me this smells like summer in Hawaii.. I feel transported across the Pacific, it is a bright happy floral, this is great way for me to escape winter.. I can add this to my styling cocktail and I am immediately uplifted.
I also want to mention that my hands get some hydration too, my hands feel ultra soft after I apply to my hands too.. Verde Oil can be used for other uses too..
Makeup Addict is lucky enough to have three of these wonderful fragranced FAR Botanicals  Verde Oil Supremes for my hair.  Here are the three that I have:

They are Rose Rapture, Lavender Absolute, and Temple Hymn.  I started with the Lavender Absolute, only because Lavender has never been one of my favorite scents.  Well, I am going to have to adjust my non-favorites as Lavender Absolute blew me away.  It is such a SOFT Lavender that it caught me off guard at first.  I think part of my dislike was due to anything Lavender I had smelled was always too strong or overpowering.  This little powerhouse bottle does not need to overpower you.  It is such a gentle fragrance!! But the real story is in the oil.  It is a NON oily oil – that is to say that it does NOT leave any oily residue or a tacky feeling.  It only takes a few drops which I massage gently into my hair and I actually see improvement as I apply it.  Seriously, tired, dull, lifeless hair became vibrant!!  It really livened up my hair – giving it such a healthy shine.  My hair looks alive and so healthy.  The shine is a natural shine — not a fake shine you can get from many products out on the market.  It must seal the moisture into my hair as it has not gotten the dry ends I usually have after some time in the heat.  Now after having used FAR Botanicals Verde Oil for a longer period of time I have noticed that my hair is more resilient and it is definitely NOT dry.  It tames any cowlicks I might get from static – I love that.  It also seems to prevent frizzies from appearing which is such a great feature.  My hair feels so light and is so soft.  Usually my hair has more weight to it from the various 'stop the frizzies' products.  This does NOT add any weight at all.
Next I went onto the Temple Hymn and had no idea what to expect.  It turns out it has heavenly scent — tobacco (not like cigarettes) but a clear, clean tobacco along with some Clove (one of my all time favorites) and I get some vanilla in there.  As I have mentioned before I am not expert and I cannot pick out the notes, etc.  But I can tell you that I love the tobacco, clove and vanilla – and I realize there are others in there that I am not pulling out but the end result is wonderful.  Another feature I discovered with these fragranced oils is that they do not clash or fight with your choice of fragrance for the day.  Now, last but not least, is the Rose Rapture.  I bet you can guess that basis of the fragrance here.  Yup, that's right – it is rose!  Now Rose can just be too floral or too strong for me – but Rose Rapture got it right.  It is perfect – it does not overwhelm me – nor does it underwhelm me.  They have captured the perfect balance for Rose Rapture.  Now I am anxious to try the other five scents.  NOW is an ideal time to get the 8 Pack mentioned above.  by Signing up for FAR Botanicals mailing list from now UNTIL December 31st you will get a 20% discount on the $42.00 price of the 8 Pack — excellent offer.  I know I am signing aboard right now @ Far Botanicals.  Do not feel badly if you did not see this in time as the regular price is very reasonable!!