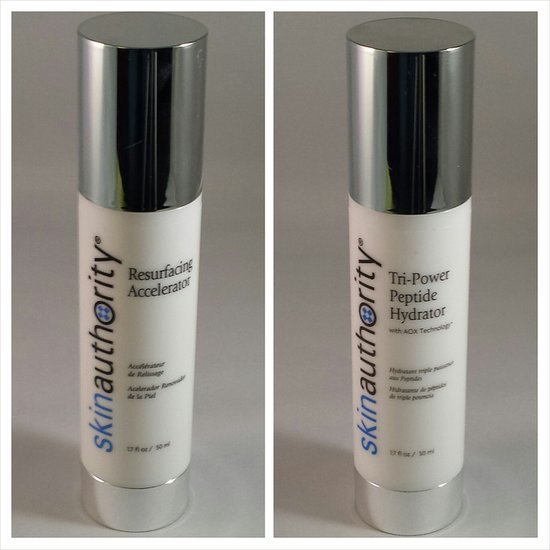 Resurfacing Accelerator & Tri-Power Peptide Hydrator
Fit & Firm DUO:
This simple two-step routine packs a powerful punch in achieving healthy, radiant skin that appears and feels fit and firm. The combination of these two products put skin on a treadmill to rev-up cell turnover reducing the appearance of fine lines and wrinkles, while powerful peptides strengthen cells to reveal skin that is firm and lifted. Clinical studies show the using the Duo together: 27% increase in firmness, 44% improvement in moisture levels and 23% reduction of fine lines.
Resurfacing Accelerator is a gentle leave-on peel that transforms the appearance of your skin as you sleep. You wake to skin that feels firmer, looks smoother, and has a natural radiant glow. This is the one product that can be added to any home routine and boost the visible results.  Think of it as cardio for skin. It speeds up the release of old skin cells and bringing fresh, moist skin cells to the surface.
The Tri-Power Peptide formula is the triple threat in the fight against aging. It firms, evens tone, and hydrates. This lightweight formula harnesses the power of three advanced peptides shown to increase collagen production, brighten skin, and reduce the appearance of fine lines and wrinkles. With the added ingredient BIOMOIST, it helps skin increase moisture retention by holding moisture on the skin longer than the most common ingredients found in typical moisturizers.
 
****The HSN segment Oct. 30 will be on in the 8 p.m. hour of The Beauty Report with Celeste Hilling, you can purchase The Brighten & Firm Duo at highly discounted rate of $79 (retails normally at $138.50).***

Makeup Addict has been lucky enough to use Skin Authority Tri-Power Peptide Hydrator for a while now. . . and I do mean LUCKY!!  It is a very light Hydrator (Moisturizer) that is loaded with Peptides, Vitamins, and antioxidants.  It is a light white lotion that applies very easily.    I do not get a fragrance to it – so if it is fragranced – it is very light.  I feel a slight tautness to my skin after applying which actually minimizes my jowls, as well as diminishing the lines and wrinkles.  It did not take long to start noticing the improvements – I caught some after the first use.  My face had been peeling in some areas due to the heat in my car hitting my face.  The Skin Authority Tri-Power Peptide Hydrator took care of that problem with the first application.  My skin responds to this Hydrator wonderfully — it is looking so much better and is NOT dry, and actually has taken on a slightly younger appearance. 

I used  Skin Authority Tri-Power Peptide Hydrator on its own and was happy with these results.  Then I combined its use with Skin Authority Resurfacing Accelerator.  Va va va voom — my skin has not looked and felt this great in a long time.  They are not exaggerating when they say Accelerator!  I started out applying this at night only and started to see and feel differences right away so I went on to applying it twice a day.  I mentioned the improvements with the Hydrator – now just almost double the improvements with the combination of using both products.  My skin is so soft, dewey, and absolutely radiant.  I can use less concealer and foundation!!  The little breakouts which I have considered normal have not happened since I began this regime.  My pores look normal sized compared to the crater appearance before using Skin Authority.  I am going to admit that I thought my skin looked terrific with the Hydrator but now everything about it has improved.  Seriously, I feel like I might be applying a lotion face-lift when I see the results.  Skin Authority does the most with what it has to work with and that is saying a lot.  Not all of us can be Giselle – but we certainly can look our best and I do with a lot of help from Skin Authority.  HSN is offering this Skin Authority truly dynamic duo at a special reduced price for the introduction.  I suggest you grab some as Skin Authority is a real bonus to your skin.  To be honest – even if you miss out on the introductory price – the reduced HSN price is a bargain!!!!