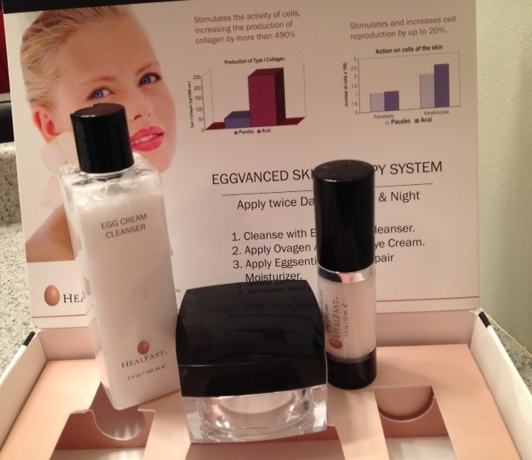 ABOUT HEAL FAST: Mike Marenick began formulating skin care products over a decade ago based on a need to solve his mother's life long battle with the skin condition called psoriasis. Over the years Marenick has continued to be an innovator in skin care using Ovasome Technology™ .
Marenick has appeared on Home Shopping Network and The Shopping Channel of Canada having numerous sell out shows. He was featured in two national infomercials about his skin care technology. Mike has also been an expert guest on Healthy Talk Radio for a national show hosted by Dr. Julian Whitaker. To date his products have been seen on ABC, FOX, CNBC, and CBS.  They have also appeared in over 300 national and         international publications including; Vogue, Cosmopolitan, Allure, Newsweek, Family Circle, Marie Claire, Redbook,  Men's Journal, Rolling Stone, Womans World, Men's Fitness and many more.
The Eggvanced Skin Therapy trio is a complete every day beauty routine system. The Egg Cream Cleanser, Ovagen Anti-Aging Eye Cream and Eggsential Hydro-Repair Moisturizer work together to address fine lines and wrinkles and the first signs of aging.
Learn more about Heal Fast Skin Care and Eggvanced Skin Therapy HERE!!!!
METSV says:  Well, this is a first foray into Ovasome Technology.   To be honest, I wasn't familiar with it, and didn't realize how beneficial it could be to my skin (and I love eggs!) but now that I've used this kit for close to a month… I'm a believer.   This trio is just what my skin needs this time of year.  For whaver reason, all hydration just gets sucked out of my skin once the days start getting shorter and the weather turns colder.  My skin takes on an aging crepey look that is just not going to work for me! I'm constantly slaterhing lotions, potions, serums, masks, whatever to kee the hydration in… This system is really helping to keep my skin soft AND hydrated AND less lined, tired, sallow, and blah looking.  It starts with the cleanser; a lightly fragranced  (mango maybe?) cleanser that is gentle yet effective at taking off my makeup.  I still use a mascara remover for my mascara, but for the most part the cleanser gets my face clean without stripping it and making it drier – which inexplicably, some cleansers, though formulated for dry skin, make my skin feel like!  The moisturizer has a thick, almost gel-like consistency and I actually prefer to use this at night as an over-night treatment.  It's a little thicker than moisturizers I'm used to – but it also acts like a protective layer in keeping the moisture IN my skin.    When I wake in the morning my face feels soft and smooth, more firm, – it just looks healthier.  The eyecream may be my favorite of the trio.   This is just what my eye area needs – an extra layer of hydration to keep the crow's feet and smile lines at bay and I really think it makes my eye area less puffy and tired looking.  I have definitely seen a noticable improvement and that's really all I can ask for in my skincare.  I would absolutely recommend using the entire system for best results because the three of them work great together in keeping my otherwise crappy winter skin in pretty good shape if I do say so!